Salesforce is all about engaging with customers, so we were excited to listen in on a Dreamforce session specifically geared to building exceptional customer journeys. Customer Journey Mapping is incredibly important as we look to gather additional insights on who our customers are and what they need from their partners and vendors.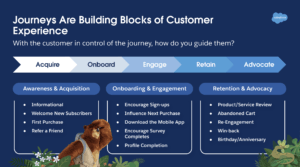 Building Blocks: The Five Stages of Customer Journeys
Let's begin by recognizing that customer journeys aren't transactions; they're the cornerstone of exceptional customer experiences. Journeys generally cover these five stages in a customer lifecycle, so its important to think about how you build impressions of your business through each stage:
Acquire: The initial point where potential customers encounter your brand. How can you make this first impression memorable and engaging?
Onboard: The process of welcoming and guiding customers as they start their journey with your brand. How can you ensure an onboarding experience that feels effortless, natural?
Engage: Maintaining customer interest, providing valuable information, and ensuring satisfaction throughout the journey. How can you achieve this in a fast-paced digital world?
Retain: How do you keep customers coming back for more?
Advocate: Turning loyal customers into brand advocates who actively recommend your products or services.
Five Critical Steps to Crafting a Winning Customer Journey Strategy
Goal Setting: Start by defining high-level goals to guide your efforts and help you break down your strategy into achievable steps.
Audience Definition: Understand the diverse intents of your audience. Some seek to "go" to a location, some to "know" via researching and others to "do." Tailor your content and engagement strategies for each.
Data Audit: Assess your existing data, including basics like names and email addresses, and more comprehensive data like demographics, purchase history, and email engagement. Continually refine and build upon this data to enhance your strategy.
Content & Channels: Match the type of content with preferred outreach channels. Consider your audience's tolerance for different communication methods.
Journey Mapping: Create a comprehensive map of every customer touchpoint. Consider the timing between each touchpoint and identify decision points that influence the type of content the customer receives.
Ready to transform your customer journeys into memorable experiences? Reach out to discuss with us!