Unleash the Full Potential of Salesforce With Managed Services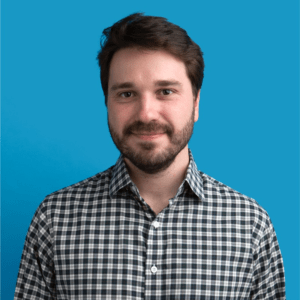 In today's fast-changing business landscape, technology is no longer just a tool—it's the engine that powers your operations and drives success. But with the ever-evolving technological landscape comes the challenge of keeping up with its complexities and ensuring your business systems are always running at optimal levels.
The good news? There's a solution to this complex problem: our Salesforce Managed Services.
Salesforce Managed Services provide businesses with a proactive, cost-effective, and expert solution for their technology needs. From monitoring and maintenance to security and support, it frees up your time to focus on what really matters—growing your business.
To delve deeper into Managed Services Practice, we interviewed Michael Gold, who heads up our Managed Services Team at NuAge Experts.
Meet Michael Gold
With almost five years of experience at ConvergeOne Company NuAge Experts, Michael Gold is a seasoned professional. He started at NuAge Experts as a consultant but quickly moved up the ranks to become a Manager of Salesforce Delivery.
Michael leads a team that provides ongoing client support, helping them optimize their Salesforce systems and reach their business goals. Michael's team is known for building strong relationships with clients and delivering tailored solutions that meet their unique needs.
Armed with ten Salesforce certifications, Michael is a true expert in the field, and his knowledge and experience are unmatched. In addition, he brings a wealth of expertise to the table from digging into many different client Salesforce orgs, ensuring our customers receive the best support and guidance.
What Salesforce Managed Services do you typically provide to clients?
According to Michael, NuAge Experts has a unique approach to helping clients based on their specific needs. One of the key benefits they offer is retainer-based payments, which allows NuAge to provide ongoing support for their clients' Salesforce needs.
"We work on retainer and can help our Salesforce clients with whatever needs come up. We don't need to know what those problems are when we get under contract with those clients."
"Businesses are continually changing. Salesforce puts out three releases every year. So our client Salesforce instances are moving targets based on what's being updated by Salesforce and what's changing in their business."
But their approach to each client sets NuAge Experts apart from other managed services providers.
"Our clients usually come to us with a list of immediate needs and look to us for expertise on what's next. We can handle the break-fixes and fires that come with changing business environments, and once things are settled, we can focus on implementing best practices and future-proofing our clients."
To Michael, "managed services" isn't just about fixing problems; it's about building ongoing relationships with clients and supporting them in their Salesforce needs.
What do you do to keep yourself ahead of the curve to support your clients with Salesforce? 
Staying on top of changes in Salesforce is crucial for providing the best support to clients. That's why Michael says he and his team continuously invest in training and education—to ensure they are equipped with the latest knowledge. They also participate in internal Salesforce training to stay up to date.
"Salesforce is continually changing, so it's paramount for my team and me to stay current with all the changes. We're doing that internally through Salesforce's self-guided and leader-led training, and we're helping our clients stay on top of that through initiatives," said Michael.
"We also have different kinds of internal training. Lunch and learns and recurring meetings where people get together and share either cool solutions they've built or things they're having trouble with that they need help on."
Their constant use of the product and serving various clients allows them to stay on top of Salesforce and its changes. This ensures team members are equipped to provide their clients with the best support and services.
What things should people be aware of through the end of 2023? 
According to Michael, Salesforce is continuously evolving, and new features are constantly being introduced while old ones are being retired. To keep up with these changes, clients need to be proactive and stay informed.
→ Salesforce Flow
Michael mentions that the best practices for declarative automation tools have changed. Salesforce now recommends a tool called "Flow," which has replaced older declarative automation tools like workflow rules and process builders.
→ Salesforce UI
Another change that Michael has noticed is the Salesforce UI. Eight years ago, Salesforce introduced a new UI called "Lightning," which replaced "Salesforce Classic." Although many clients have already made the switch, Michael's team is still assisting others as they transition from Classic to Lightning.
→ Enhanced Security Features
To protect client data, Salesforce has introduced various security features that Michael's team helps clients implement. These features include "my domain," which personalizes every client's Salesforce URL, enhancing security and preventing clients from logging into the same URL.
→ AI Cloud
Of course, everyone is focusing more and more on AI and LLMs. Salesforce is well into this area, and will be bringing AI Cloud as well as AI capabilities into all of the Salesforce Clouds.
Why should clients choose NuAge Experts as a managed services provider? 
According to Michael, NuAge Experts is an exceptional managed services provider for Salesforce clients for several reasons.
First, NuAge offers unparalleled support, from minimal assistance to complete staff augmentation, providing clients with a flexible solution to meet their business needs. With a large team of highly experienced Salesforce consultants, clients can enjoy a quick response time and a scalable solution that can adapt to changes in their business.
"We're a large team of extremely experienced Salesforce consultants. We know how to quickly scale up and down to meet business needs, which would be much easier than hiring Salesforce professionals on their own. We've got the expertise in-house to help clients solve problems TODAY," said Michael.